Arnold Schwarzenegger, the iconic actor and former governor of California, recently took matters into his own hands to address a persistent issue in his Los Angeles community.
After weeks of complaints from his neighbors about a "giant" pothole in the middle of the street that was damaging cars and bicycles, Schwarzenegger gathered a team and got to work fixing it.
He even recorded the whole process and shared it on social media.
In a tweet accompanied by a one-minute video of the repair, Schwarzenegger wrote, "Today, after the whole neighborhood has been upset about this giant pothole that's been screwing up cars and bicycles for weeks, I went out with my team and fixed it. I always say, let's not complain, let's do something about it. Here you go."
In the video, Schwarzenegger, 75, can be seen wearing work boots, sunglasses, and wielding a shovel as he and his team fill the deep crevice in the street with quick concrete.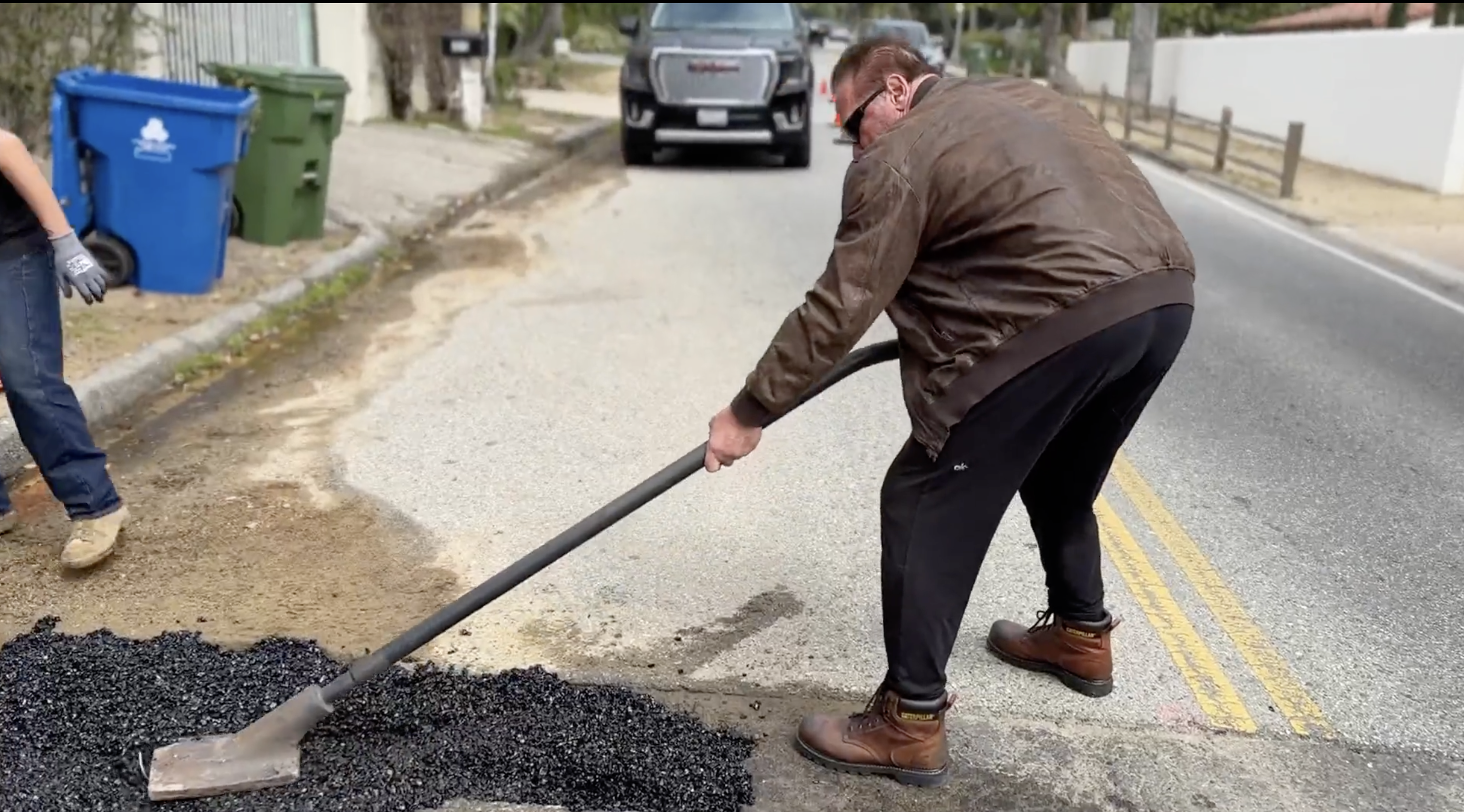 As they work, a grateful neighbor drives by and thanks the "Terminator" actor for his efforts. Schwarzenegger responds, "You have to do it yourself. I mean, this is crazy. For three weeks I've been waiting on this hole to be closed."
Schwarzenegger's spokesperson, Daniel Ketchell, explained that Brentwood residents had made repeated requests for repairs due to potholes and cracks caused by winter storms.
Schwarzenegger's willingness to roll up his sleeves and take action is not surprising, as he has a history of manual labor.
Before his successful career in Hollywood, he and a friend ran a bricklaying business, doing masonry work all around California.
When asked by one of his followers if his former career had taught him how to fill the pothole, Schwarzenegger simply replied, "Yes." His hands-on approach to problem-solving and willingness to take action has earned him praise from his community and fans alike.
This pothole repair comes at a time when the city of Los Angeles is facing an overwhelming number of damaged streets.
Mayor Karen Bass recently announced a plan to address what she called an "unprecedented" number of service requests for repairs, with over 19,692 requests received since December 30.
As of April 6, crews had filled at least 17,549 potholes, according to officials.
It is unclear whether the pothole that Schwarzenegger filled had been scheduled for repair by the Department of Public Works.
Many admire his "do something about it" attitude and willingness to take action to address issues in his neighborhood.
As one Twitter user commented, "This is why we love you, Arnold. You don't just complain, you take action and make a difference. Thank you for being an inspiration."